Whether your company sells product or services, QuickBooks Online can help you track them.
If you sell one product or multiple types of products, it is helpful to track your inventory with QuickBooks Online to see how many items you have in stock, when to reorder product as well as track product sold for accounting purposes.
QuickBooks Online recording and tracking tools meet all of these needs by allowing you to create records for products and services. Here is how it works.
First Things First
Before you can start working with QuickBooks Online product/service records, make sure QBO is set up for this purpose. Click the gear icon in the upper right, then Your Company | Account and settings. Click the Sales tab to get to the Products and services section, as pictured below.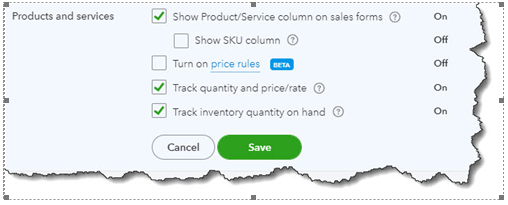 Click on Products and services to open your options here. To turn any entry from On to Off, or vice versa, click in the box at the beginning of the line to check or uncheck it. To see an explanation of each, click on the small-circled question mark. When you are done here, click Save. Then click the X in the upper right to close this window.
Creating Records
To start entering product and service data in records, click the gear icon in the upper right, and then select Products and services. Since you have not entered anything yet, the table will be blank. Eventually, it will contain data for each record you have created. You will also notice two colored circles at the top of the screen, one marked Low Stock and the other, Out of Stock. When there is a number next to either of them, you will be able to click on either circle to see a list of what is low or what is out.
Click New in the upper right. A vertical panel will slide out asking what kind of record you want to create. You can choose from:
Inventory – Physical items you sell and want to track quantity
Non-inventory – Products you buy or sell but whose quantities you do not need to track
Service – Services you sell, like legal representation or landscaping
Bundle -A group of products and/or services that are sold together, like computer training and accompanying software
We're going to create an inventory item, so click on Inventory.Type. In the Name field, type the product name and add a photo if you'd like. If the product has been assigned a SKU, enter that in its field. You may want to divide your products into primary categories and sub-products or services (like Writing Instruments and Pens, Pencils, Markers, etc.).

In the next section, you will enter the Initial quantity on hand. How many do you have as of (current) date? Where do you want to set your Reorder point? What number of items remaining should trigger the Low Stock alert so you can replenish your supply?
Inventory asset account should already be set at Inventory Asset. Enter a brief Description and then the product's Sales price/rate (the price you will charge customers) and leave Income account set at Sales of Product Income (unless you have multiple income accounts, if that is the case select the appropriate one). Then select a Sales tax category. (If you are unsure about this, feel free to reach out to us)
In the Purchasing information field, enter the description that should appear on purchase forms, and then Cost (the price you paid to buy the product, if any). The Expense account should be Cost of Goods Sold. Select a Preferred Vendor if you would like and Save the record.
Not all fields are required in your product and service records, but we strongly recommend you complete each record as thoroughly as is possible.
Next month, we will look at how product and service records are used in QuickBooks Online. Until next time!