Keeping a watch on your accounts receivable can help improve cash flow. Knowing how many of your invoices are unpaid and if you billed all of the time and expenses for your customers projects impacts your cash flow.
To get a quick glance of your customer balances, on the home screen hover over the Sales tab on the left vertical panel and click Overview. The dashboard shows the amount overdue as well as invoices open but not yet due. Click on the colored bar labeled OVERDUE, and you will see a list of invoices with the overdue ones at the top followed by open invoices not yet due.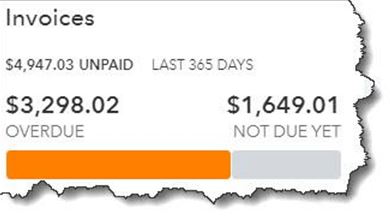 While this quick glance is helpful, it is only a summary of what is owed to you. To get a full picture you can access accounts receivable reports by clicking Reports in the left vertical pane and scroll down to the heading labeled Who owes you
These reports are listed in two columns. Each has the outline of a star next to it. Click on the star, and the report will be added to the Favorites list at the top of the page. Click on the three vertical dots next to it, and you will be able to Customize the report. Hover over the title and you will see a small, circled question mark. Click on this to get a brief description of the report.
There are several reports in this list that can provide insight into where your outstanding revenue is. We recommend you run five of them at least once a week – more frequently if your business sells large quantities of products and/or services. The suggested reports are:
Accounts receivable aging detail
This report provides a list of invoices that are overdue, along with aging information. There are several columns in the report, but you will want to pay special attention to the last one: OPEN BALANCE.
Customizing the Reports
Before you run the report, you can explore the customization tools provided for it. They will not be the same for every report, but you can start to get an idea of what can be done. Hover over the report title and click Customize. A panel like the one pictured below will slide out of the right side of the screen.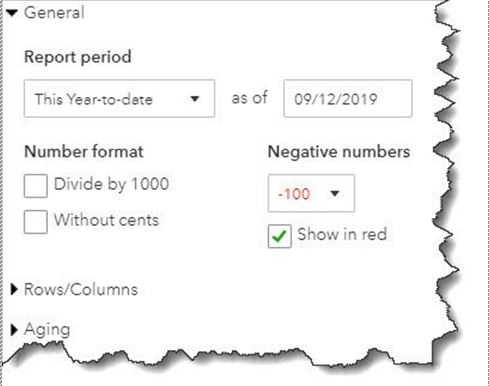 You can see some of your customization options in the image above. Beyond these, you can also work with filters and headers/footers. When you are satisfied with your changes, click Run report.
If you want to run a report with its default settings, just click on the report title in the list to display it.
Four other reports you should be generating regularly are:
Customer Balance Summary: Shows you how much each customer owes your business
Open Invoices: Lists invoices for which there has been no payment
Unbilled Charges: Just what it sounds like: tells you who hasn't been invoiced yet for billable charges
Unbilled Time: Lists all billable time not yet invoiced
Utilizing the customer reports will help keep track of what is coming due and track expenses and time to bill your customers. All items that affect your cash flow and company's financial health.